The last two winters, Jen's parents have let me borrow their "extra" car because Jen was out of town, or I had to park at an airport, or some other reason. While a Porsche Cayman (S trim or otherwise) can drive in most such scenarios, this winter was particularly brutal, with several storms depositing more snow than such a low car could handle. This made me extremely glad I had an alternative.
We just don't live somewhere I can have a "toy" at the moment. This isn't Florida or California, where the worst I would have to contend with is some occasional rain. So, shock and horror, I sold the Porsche. This means I need some kind of replacement. Maybe because I tend to over-correct when faced with a roadblock, I started researching Jeeps, but Consumer Reports and other sites rank these almost at the bottom of every list in terms of reliability, so I dove down the compact SUV rabbit-hole for the increased ground clearance.
for reference, we already own a 2019 Mazda CX-5, and previously owned a 2016 Mazda 3, so we've gotten accustomed to certain luxuries. One of these is Maxda's Active Drive HUD system:
I already liked the feature in the 2016 Mazda 3, but the 2019 brought it to a whole new level. Not only does it display current active following distance on the cruise control and your current speed, but newer systems also display turn-by-turn directions coming from the nav system, and will recognize and display most nearby road signs. Miss that last speed limit sign on the freeway? No you didn't. And it puts this right at lower eye level, so you don't need to stop watching the road. It's what Augmented Reality is meant to be, and at this point, any car that doesn't have it, immediately feels inferior, as if it were spawned in the 1900s.
The problem is that Mazda doesn't have any vehicles I currently want. The current Mazda 3 hatchback is hideous, for example.
Online reviews and videos I've seen of the CX-30 complain that it's basically too small, which I can verify after having seen one in person. The new CX-50 is basically just a larger version of our CX-5, the Mazda 6 reminds me too much of our old 2012 Hyundai Sonata, the Miata is basically the same scenario as my Porsche, and so on. We don't really need another CX-5, so I started looking for something else.
So over the weekend, we drove to Peoria to check out a few dealerships depending on the time we had. Our first stop was at Subaru, where they let me test drive a 2022 Crosstrek Sport, a 2021 Forester Sport, and a 2021 Outback Limited. The Crosstrek actually handled too well, with extremely tight and responsive steering that there was no way to escape. Every car I've owned had a certain amount of "play" in the steering wheel, including my 1999 Ford ZX2 and 2003 Mitsubishi Eclipse GT. The Crosstrek translated basically every tiny movement directly into the road, which didn't feel good at all. How can I relax while on a long drive when even the tiniest movement sends the car careening in one direction or another? Otherwise, I liked the fact that there were two USB ports in the center console, the infotainment screen was large and responsive, and the back had plenty of storage. The back seat is also surprisingly large given the size of the vehicle.
Next was the Forester, which had a similar steering feeling, but was less pronounced. I'll also note that I'm not the only one to notice this. Sitting in the Forester is hard to describe. It's like sitting in the driver seat of a big rig, gazing over a vast hood through a gargantuan window. The side-to-side panoramic moonroof further improves the lighting situation, and I couldn't find any blind spots to speak of when looking through the back. This thing feels insanely massive, but it's roughly the same size as our CX-5. The amount of storage in the back is comically large too, being 10 cubic feet larger than our CX-5 with the seats down.
I also liked that the Forester's dash system was similar to our CX-5 in that it uses actual knobs for the important stuff.
Unfortunately this is where being spoiled with the Mazda HUD comes in: I didn't like having to look down at the instrument cluster. After fiddling with it, I managed to get a digital speedometer to display, but it was comparatively tiny.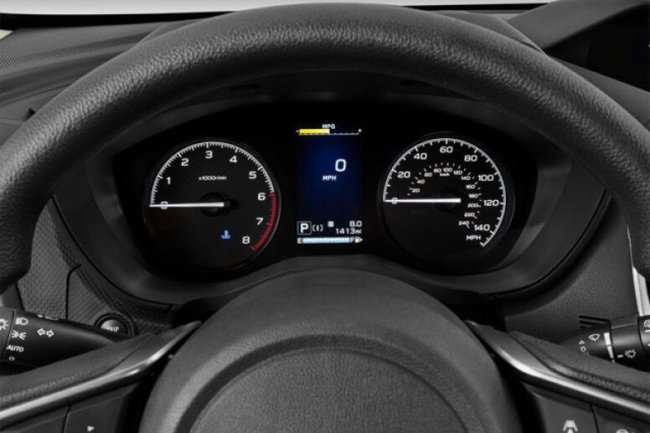 The crazy thing is that this is still a step up from almost every other car I've owned in the past. It's only because of Mazda that I consider this design deficient and less versatile. From the look of things, Subaru elected to cram the middle display in the instrument cluster with all of the features Mazda moved into the HUD with the larger projection.
Either way, next on the test list was the Subaru Outback. Jen's parents also own one of these, as does her aunt, but they're both older models. I seem to recall they felt more "boaty" when I had a chance to drive them, so I wanted to see if this evaluation held up for the new model. One thing I immediately noticed while driving is that the steering was much more forgiving, and felt more "normal", without swerving around with every tiny movement in the wheel.
The major flaw with the Outback had nothing to do with the driving characteristics, storage, or anything someone might normally notice. No, it's this absolute insanity:
While there are physical buttons for modifying volume, channels, or climate control, the display itself is completely dependent on that single giant screen. There are also several options that can only be modified through the touchscreen itself. How many people have cracked cell phones these days? What happens if this happens to the central control system of your car?! Even if this were the best of the bunch, I would never even consider buying it so long as that monstrosity graces the center console.
One thing I liked about all of the Subarus is that their infotainment systems were far more responsive than the one in our CX-5. Sometimes it feels like ours is running on a CPU obtained from a Cracker Jack box. Especially after freshly starting the car, SiriusXM will hang for no reason, not responding to any button presses for up to a minute. The nav will mysteriously crash to the home screen or act similarly to Sirius and just… not do anything when activated until it decides it wants to.
We also went to a Mazda dealership, and this is where I saw the CX-30 and decided it was too small. While we were there, I fiddled with the nav system in a loaner vehicle, and it didn't have any of those problems. Either they've fixed this in the newer systems, or something is horribly wrong with ours. This later possibility is one reason I dislike the current trend toward more electronic control of vehicle components. At least with our Mazda it's all optional stuff, but imagine if something similar went awry with the Outback! "Oh sorry honey, our climate control hung and we can't change the temperature." How do you even reboot that? Restart the car?
Either way, the Forester won the round and we said our goodbyes before moving on to the Honda dealership. I specifically wanted to see the CR-V, because I heard it compares favorably in this segment. And indeed, it held up very well! It accelerated slightly better than the Subarus, felt smooth over the uneven roads around the dealership, and had a beautiful instrument cluster display. Seriously, this is a sight to behold.
Whereas Subaru elects to shoehorn a tiny display between two analog dials, Honda dispenses with the theatrics and uses an LCD for the entire system. The result is a far less cluttered display, with clear and bold numbers that are a perfect match for actually driving. This alone made the CR-V superior in my eyes. It's not the CX-5 HUD by any stretch, but it's a very close second.
Unfortunately while doing related research, I ran across several complaints regarding oil dilution in 2016-2018 Honda models. Apparently while cold, Honda's 1.5L direct-injected turbo engine will not detonate all fuel in the chamber. This leads to some of that fuel leaking down past the seals into the oil itself. Not only does that dilute the oil and lead to more engine wear, the extra ratio of corrosive fuel in the oil itself can damage the engine and even electronic components. The direct injection alone causes carbon buildup on valves and spark plugs, reducing their effective lifetime to 1/3 their stated ratings or worse.
Honda tried to fix it with a software tweak that causes the engine to run hot when first started, which means the cabin will remain cold in the winter for however long this takes. It also means "short trips" exacerbate the problem, so a quick jaunt to the supermarket in the winter can physically damage your engine. Recommendations for reducing impact is to accelerate the maintenance schedule, which means earlier oil changes, earlier replacement of spark plugs at 30k miles instead of 100k, and yearly treatments to remove carbon buildup at about $500 per occurrence. All of these drastically increase the cost of ownership for an affected vehicle, and the affected 1.5L turbo engine makes an appearance across Honda's lineup.
Just as a side note, my mom owned a 1958 Volkswagon Beetle for a while, and managed to acquire a 1600cc replacement engine for it through a series of shrewd trades. This is significant because the 1.5L engine Honda is using for so many much heavier vehicles, is only 1489cc. There's a phrase for vehicle power: there's no replacement for displacement. While throwing a turbo at an engine increases its overall power, it also accelerates wear due to the additional stress caused by higher operating pressures. What has more environmental impact, 1 or 2 more MPG, or extra wear and tear including premature failure of an entire engine?
Essentially Honda is trying to remain fuel efficient by dropping a comically tiny 1.5L engine into a freaking SUV, and adding a turbo so it doesn't feel like an actual snail. The hybrid version of the CR-V includes a larger 2.0L engine to power the hybrid system, and since it lacks a turbo, does not suffer from this issue. Sadly for some mysterious reason, the Hybrid version also completely diverges from the standard control system as well. Instead of a regular drive selection stick like most sane vehicles use, hybrids get whatever this is:
Seriously, what? What is that? Who chose that? How did it get past management and marketing? Is Honda being held hostage? Blink twice if you're in danger, Honda. Even in the standard CR-V, there's no manual mode aside from the "Sport" setting. While the Subarus (and our CX-5) allow manual gear selection for situations which call for downshifting, Honda provides no such functionality. I test drove a Honda Fit back when they were introduced, and even it had that feature, so I have no idea why newer Hondas would drop it.
We went to the Mazda dealership last, and as our time was running low, only had time to examine the CX-30 as previously mentioned. Unfortunately this particular dealership was being remodeled, and apparently keys weren't available after 3PM so we couldn't test drive anything. We were able to sit in the CX-30 and play with the infotainment system, but that's the extent of things, and that's where we left it.
Why no Toyota RAV4? While they do apparently offer a similar HUD as our CX-5, cabin luxury is a massive downgrade. All of the Subarus and CR-V included soft-touch leather-like dashes and accessories, included visible stitching and accents, while the RAV4 is… a plastic econobox at all trim levels. Reviews also note the road noise is atrocious by comparison.
Additionally, I couldn't find any Toyota dealerships that actually had any to test while we were in Peoria, and I won't buy anything I haven't driven first. They're also much more expensive than the others at comparative trim levels, especially the Hybrid version I'd likely consider. I'd like to at least verify if the complaints for the RAV4 have any validity. After all, it's these same reviews that lambasted the the CR-V infotainment system as laggy and inferior, yet I found it to be just fine.
That was the end of our Saturday adventure, with nothing being truly resolved. I liked the way the Outback felt on the road more than the Forester, but it was a higher trim level that may have included some handling tweaks. The CR-V felt great, but has some serious potential longevity issues I'd like to avoid. Mazdas are a known quantity, but I'd like to diversify so we can avoid issues in one car that won't affect the other. I'd consider a Hyundai, but our 2012 Sonata was a litany of recalls that culminated with a total engine failure after I gave it to my mom. They replaced the engine due to one of the recalls, but that doesn't exactly fill me with confidence at Hyundai quality.
I'll keep looking, but I may have to just buy a cheap banger to tool around it until I can see what the 2023 models have in store.
Until Tomorrow